The purge sector is optimized to reduce carryover or EATR. It will stop the inlet of exhaust air in the small area right before airflows switch, thus avoiding exhaust air to get trapped into the matrix. A small amount of the supply air is used to blow out the minor amount of exhaust air that might have been trapped to ensure a fresh and clean supply air. Note, Heatex provides modular purge sectors to be assembled at a later stage.
Heatex does not support lowering the flow rate to reduce the leakage rate because the flow rate induces a pressure drop required by the purge sector to function. We recommend therefore running the rotor at a nominal (or if possible) higher flow rate.
By adding an optional Heatex "Special Seal" made of polymer on the middle beam and across the purge sector, leakage through OACF is reduced by 50% compared to standard seal.
"It is shown that rotary heat exchangers, which are properly constructed, installed and maintained, have almost zero transfer of particle-bound pollutants (including air-borne bacteria, viruses, and fungi), but the transfer is limited to gaseous pollutants such as tobacco smoke and other smells."– REHVA COVID- 19 Guidance Document, April 3, 2020.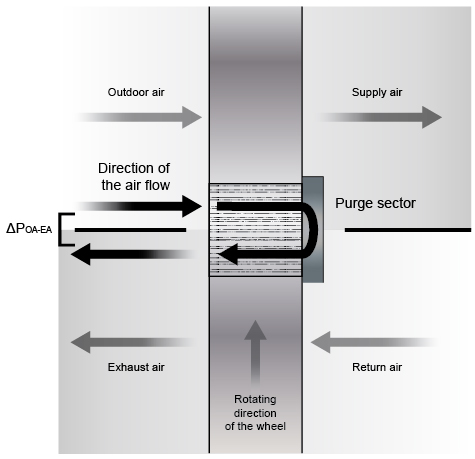 Read more about COVID- 19 related guidance at rehva.eu and ashrae.org.